I got this unit a while ago, Lexar sent it over being one of their first NVMEs they offered, in the supposed mid-range bracket. Because I haven't posted a storage review for Classified Computers before I had to come up with testing, hardware and all that.
Let's talk about the drive, It's a 500GB NVME / PCIe x4 drive that's DRAMless. It uses a Silicon Motion SM2263XT controller. Which was a controller made in 2018 with the promise to reduce NVME cost. This controller can be found in plenty of drives nowadays such as Biostar M700, Patriot P300, Teamgroup MP33. The NAND are Intel's N2TTE1B1FEB1 3D TLC based. Which can only be found in the Biostar M700 and the Lexar NM610 from my research. The average price among retailers is 86.99 for the 500GB Lexar NM610.
The test system I'll be using today is our flagship build at the moment.
| | |
| --- | --- |
| Processor | Intel Core i9 7980XE – 4.9Ghz Core, 34x Mesh ratio |
| Motherboard | EVGA X299 Dark (151-SX-E299-KR) |
| Memory | HyperX Predator DDR4 4600Mhz [Running at 4000mhz CL16] (HX446C19PB3K2/16) |
| Graphics | NVIDIA / EVGA Geforce 2080 Ti XC2 with Unlocked Bios |
| Power Supply | EVGA 1600watt T2 |
| Cooling | Custom triple 360mm radiator with Optimus waterblock on CPU, and EKWB waterblock on video card |
While our tests after this review will be done on AMD due to many reasons.
I'll be using Anvil, CrystalDisk and AS SSD benchmarks for this review. Breaking Anvil down into scores, CrystalDisk into test results per test, and AS SSD into scores as well. I'll talk about the scores, expectations and final conclusions. So without further adieu, let's get into the results.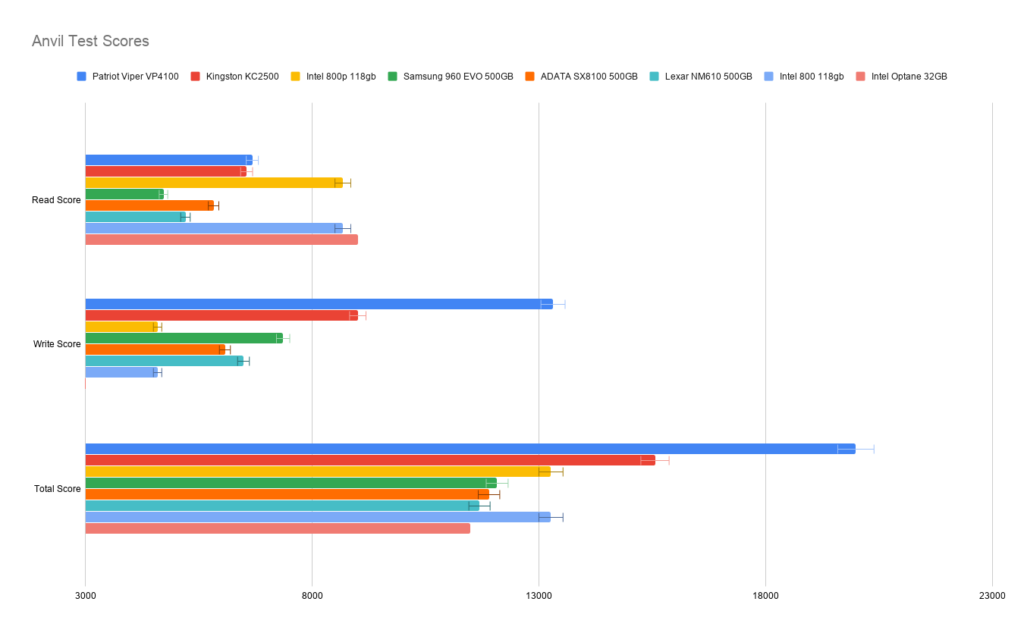 I decided to include these drives because they were very interesting for the test results. Intel Optane and Intel 800p leading in the reading tests, but not scoring very high overall. The VP4100 drive is limited to PCIe 3.0 while being a PCIe 4.0 and still scoring the best overall.
Most of the drives perform about equally to each other in the data besides the Intel ones which suffered in writing but accelerated in reading depending on the test. But I'll save most of my comments for the conclusions, but I'll let the data present itself.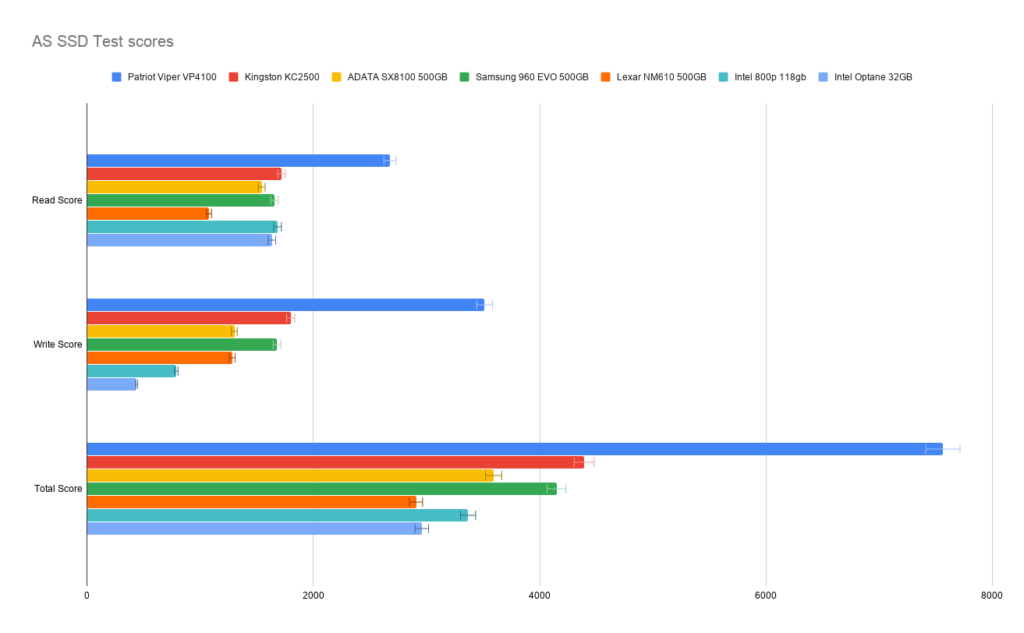 In conclusion, let's talk about my perspective on the Lexar NM610. While it's really good performance for a DRAMless NVME drive. Most NVMEs with DRAM can be found cheaper, performing better like the SX8100. Note, I'm not suggesting the SX8100 due to the heating/cooling issues I've had with it, but it's an example. So while it passes decently, I can't recommend it mainly due to price point. If it was more in line with budget friendly mid-range NVME options, I probably would recommend it but it isn't; Losing its appeal. If I could make a suggestion to make it more appealing to consumers. It would be lowering the price by 20-25 dollars at the very least. With the options in today's market, there isn't much room for this NVMe.
Final Score?
Plausible status.
If the price point was better, it would be appealing. But as is? It's not.
This product was given for free to us, There were not expectations between Lexar and us besides we review the product. The outcome of this review was not predetermined.