Today I have this case to check out, the Be Quiet! Pure Base 500 PC case. The one I got came in gunmetal grey with the tempered glass side panel. The price point of this particular unit is MSRP of 84.90 US dollars but there are other options available. The case uses steel for internals and one side panel, glass for the other side panel. The front and top cover use ABS plastic. It comes with two 140mm Be Quiet! Pure Wings 2 fans installed. One in the front of the case, and one installed in the rear. It also comes with an optional top cover in case you decide to install additional fans or a 240mm radiator / AIO on the top of the case. But more about supportive features next.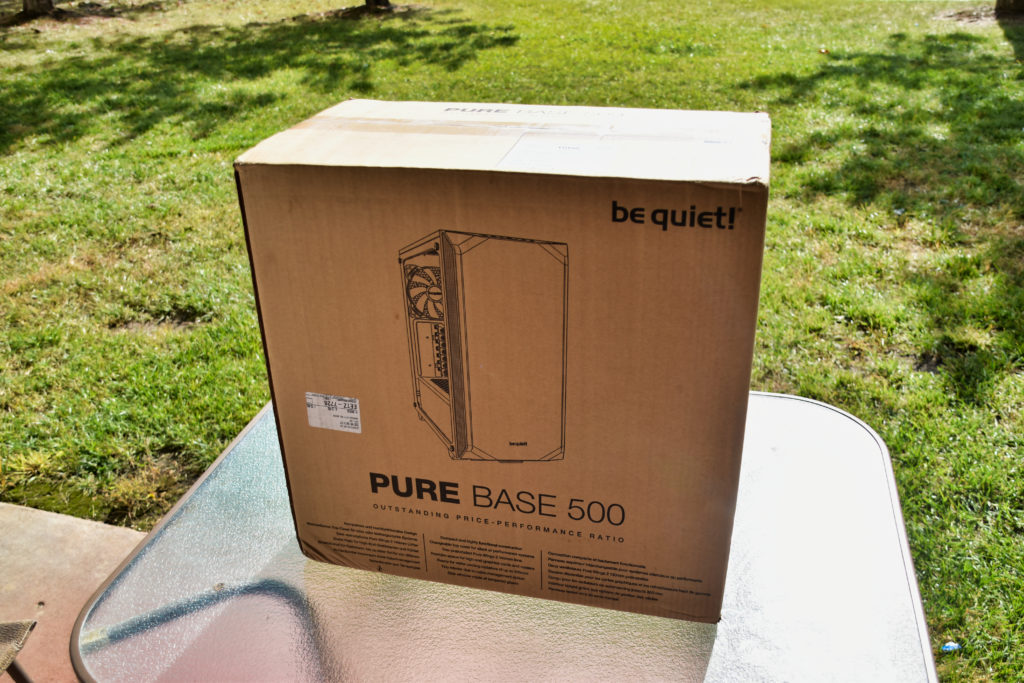 It officially supports a ATX motherboard, 4x 2.5" drives along with 2x 3.5" drives. Two of the 2.5" drives can be installed along the cable management cover. Two more 2.5" drives can be installed on the backside of the motherboard tray right behind where the processor would be or the rear bracket of the mounting solution. The 3.5" drives can be installed under the power supply shroud, In a screw mounted solution. Since this isn't a tray mounted solution, this can not be used for 2.5" drives unless an adapter is involved.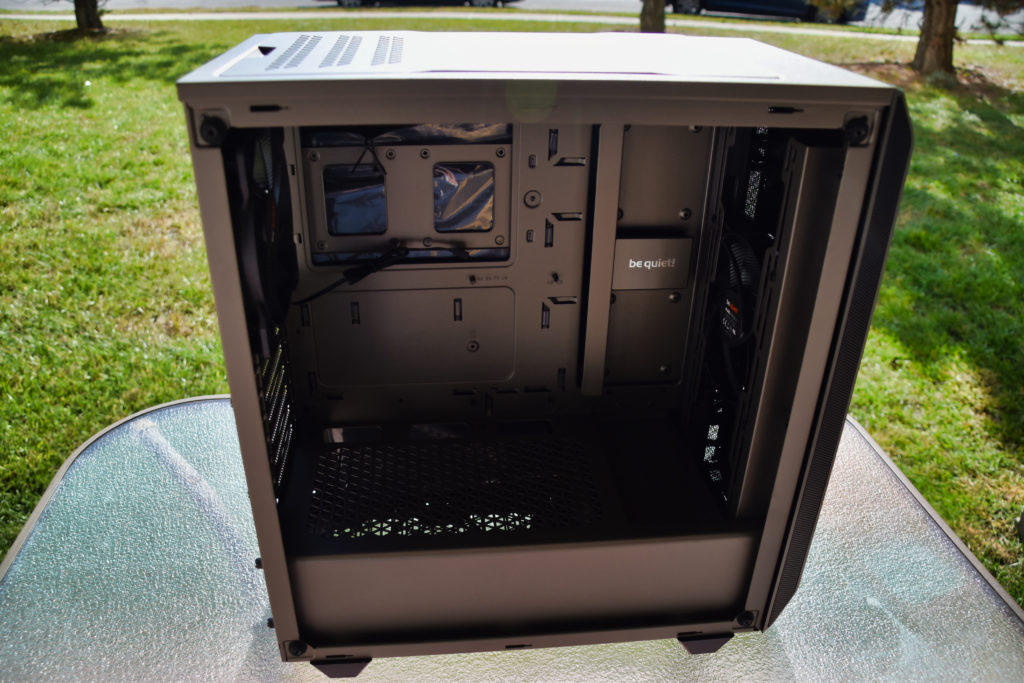 The power supply is plate mounted so it's easy to remove, supporting upto 225mm – 258mm power supplies depending on the 3.5" drive cage location and of course the drive cage is completely removable if you have other ideas in mind. The case also comes with some noise insulation mats to uphold the Be Quiet! design decisions. The front of the case supports upto a 360mm radiator, either custom or AIO solutions. The top supports upto 280mm as mentioned earlier, either custom or AIO solutions. The rear mounts support upto 140mm fan or watercooling solution.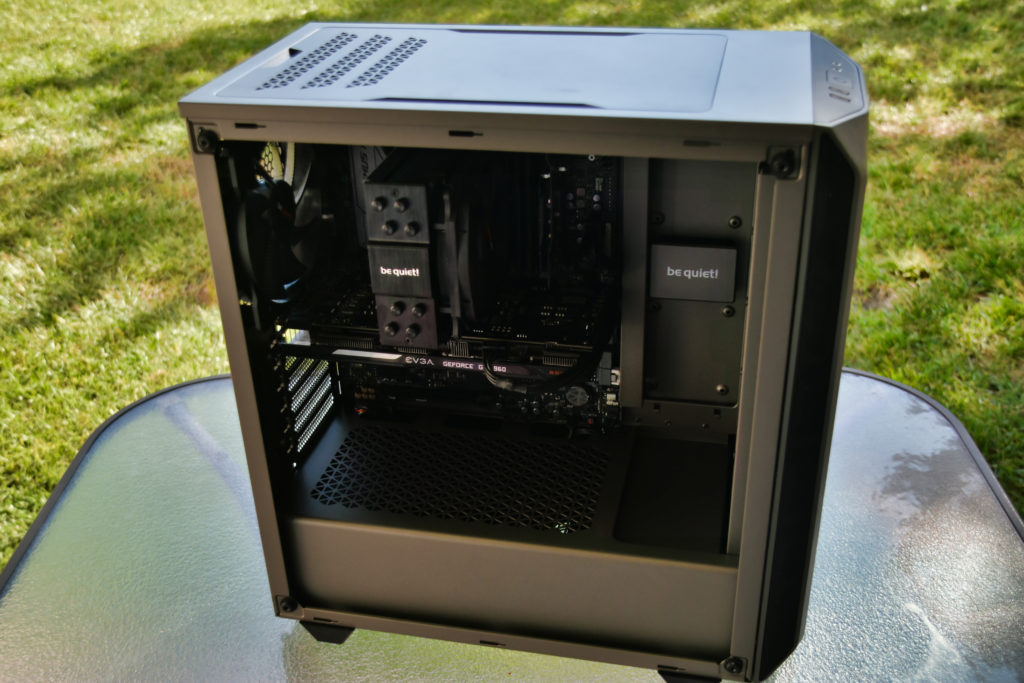 So if you were setting up a custom loop, I would suggest 280mm on top, 360mm on front in combination but you will have to sacrifice that 3.5 inch drive cage to do so. Which seems to be a common theme with modern computer cases. I wish this wasn't the case because I still find 3.5 inch drives useful for bulk storage effectively. So I would like to see a solution in the future from manufacturers.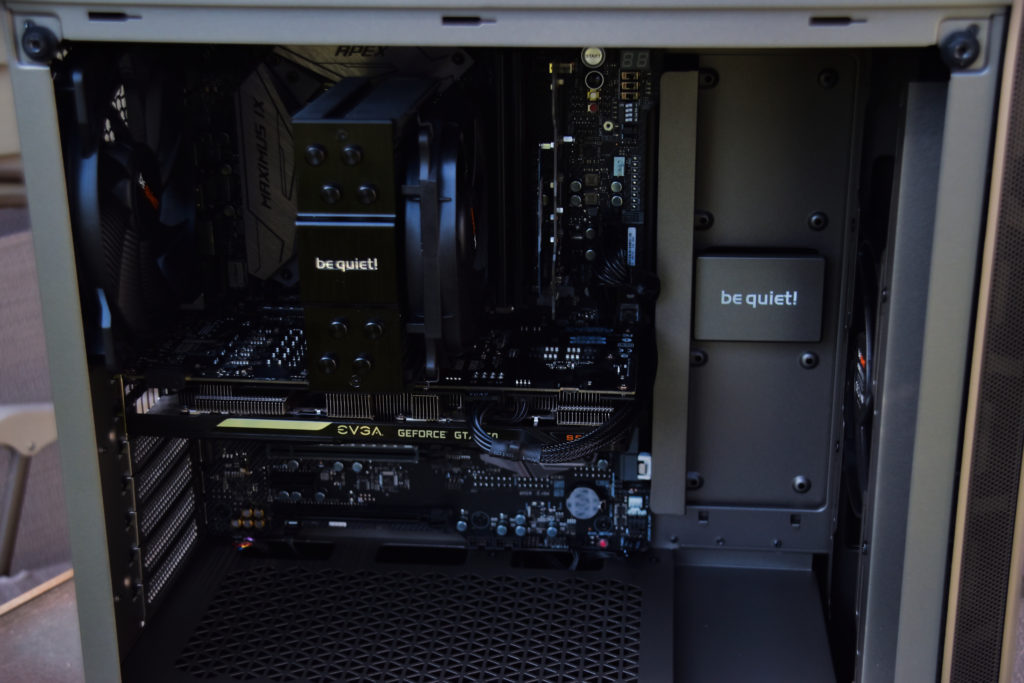 With my unit, I opted to keep the fan configuration as is and a Be Quiet! Dark Slim for CPU cooling that Be Quiet! Provided. For hardware, I decided to see what the case can be pushed into. So I was able to fit a Maximus IX Apex, a EATX motherboard with minimal issues due to the motherboard having a cutout PCB. If it was a full sized EATX, I don't believe it could have fit. So I was lucky that everything turned out so well. I also installed a single SATA based SSD. A EVGA Geforce GTX 960 video card, a 750w gold rated power supply, and that pretty much covers it.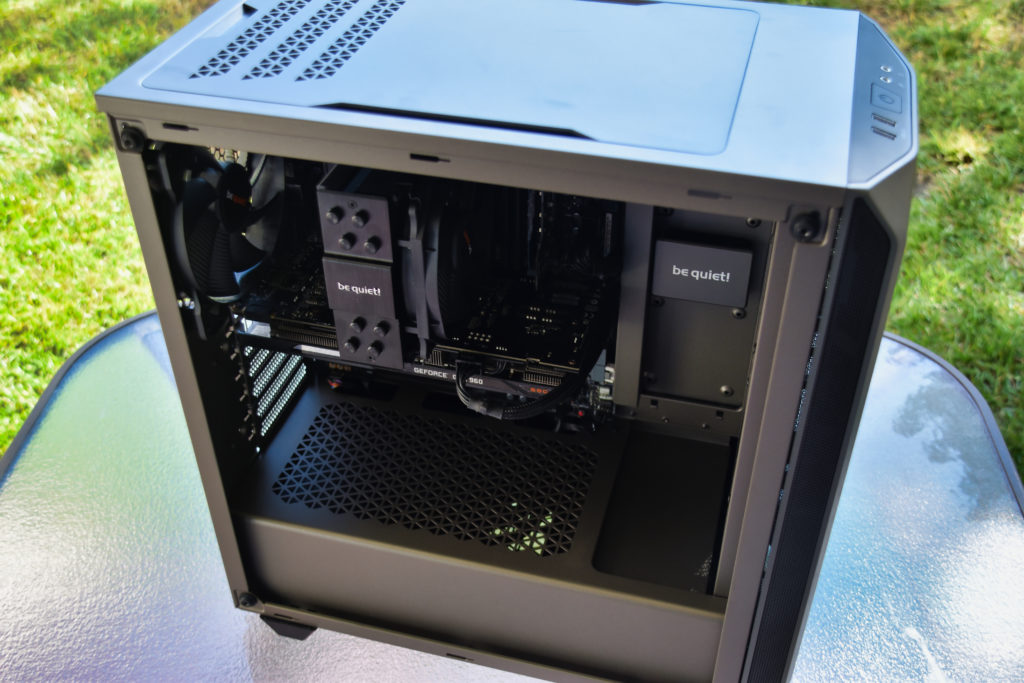 While normally I would talk about performance with our reviews, this case isn't designed exactly for performance but what Be Quiet has always stood for, being quiet. I have to say, it does an amazing job at that. With the CPU cooler at max speed and the GPU fan at a scaling fan curve. I couldn't hear anything from the case itself. I bought in some people to get a second opinion from, without telling them what I thought. Their first thoughts were how insanely quiet it was, their second was how invisible all the cables were while looking at it.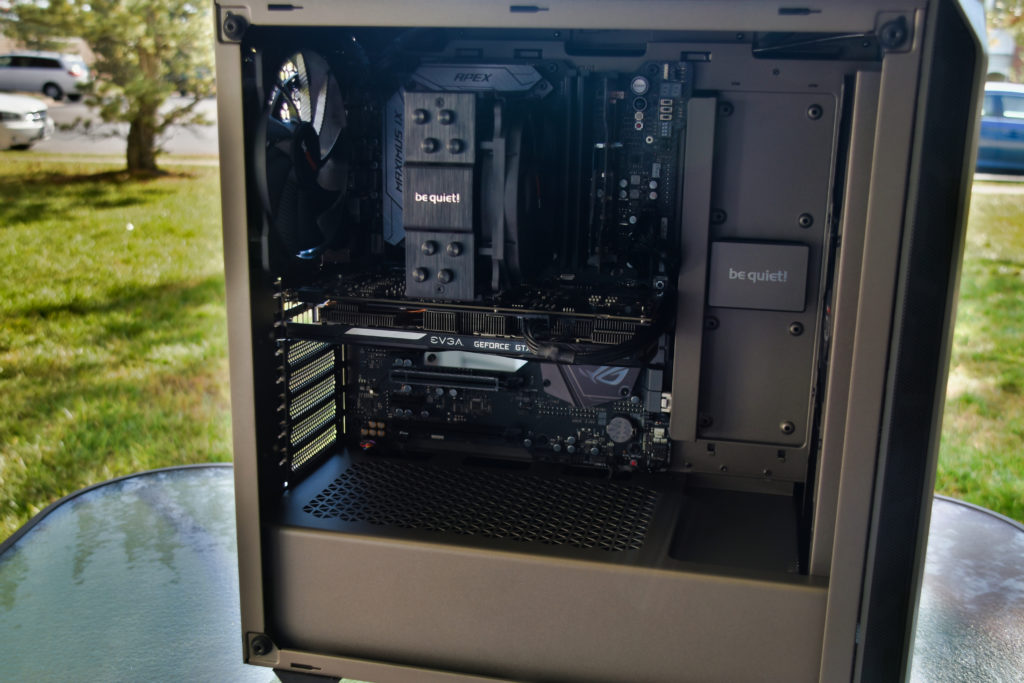 During CES 2020, Be Quiet! also announced a RGB "enhanced" variant called the BE Quiet! Pure Base 500DX. I have talked with Be Quiet! and last I knew, there will be no upgrade kit. It will be a separate SKU. This is due to the design of the front panel to enable the RGB on it. This one will only come in black or white. Not the gun metal variant that I received for this review. But I do like the mesh on the front panel with this DX variant. I will update this article as I get information on that variant.

While the case itself is highly constructed. The tempered glass variant is only around 85 dollars USD (On newegg). Which is quite cheaper for an extremely quiet, well cable managed case with tempered glass. With the radiator space, sound dampening insulation, and cable space. I am going to award it an approval (for recommendation) from Classified Computers.
Final Score?
Approved status.
This product was given for free to us, There were not expectations between be quiet! and us besides we review the product and show it off as part of a build at events. The outcome of this review was not predetermined.